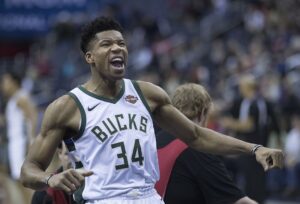 We are down to seven teams in the NBA Playoffs for 2021 and it is clear what team Canadian basketball fans need to be cheering for. Quite simply, it is the Milwaukee Bucks.
Why? Well the answer is simple. The longer Giannis Antetokounmpo is with the Bucks in the NBA Playoffs, the less of a chance he will be able to represent Greece at the Olympic Basketball Qualifier in Victoria, British Columbia at the end of the month.
In the six team tournament, Canada will be playing against Greece, China, Uruguay, the Czech Republic and Turkey. Of Canada's five opponents, the only team that provides a serious threat is Greece, and that is only if they have their top player in Antetokounmpo.
Antetokounmpo is simply the heart and soul of the Bucks. In 2019-20, he was not only the National Basketball Association Most Valuable Player, but the best defensive player of the year as well. This season he averaged 28.1 points per game, 11.0 rebounds per game, and tied a career-high with 5.9 assists per game.
Currently the Bucks are trailing the Brooklyn Nets three games to two in the Eastern Conference semi-final. A Bucks win in the series, will mean Milwaukee will be in the Eastern Conference Finals until the end of the month against either the Philadelphia 76ers or the Atlanta Hawks.