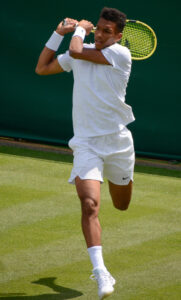 Felix Auger-Aliassime delivered one of his most impressive victories of his tennis career on Wednesday. In the second round of the Halle Open in Germany, Auger-Aliassime defeated Roger Federer of Switzerland, the fifth seed, 4-6, 6-3, 6-2.
Federer has simply dominated the Halle Open over the years. He was won the tournament a remarkable 10 times, and seven more times than Yevgeny Kafelnikov of Russia, who is second on the list with three victories. Auger-Aliassime now joins a list that includes 1989 French Open champion Michael Chang of the United States (2000 quarterfinals), 1997 and 1998 United States Open champion Patrick Rafter of Australia (2001 quarterfinals), 2006 Australian Open semifinalist Nicolas Kiefer of Germany (2002 semifinals), 2001 United States Open champion and 2002 Wimbledon champion Lleyton Hewitt of Australia (2010 finals), four-time grand slam semfinalist Tommy Haas of Germany (2012 finals), 2020 United States Open finalist Alexander Zverev of Germany (2016 semifinals), and Borna Coric of Croatia (2018 finals) as the only players to beat Federer over the last 21 years at the Halle Open.
However, never before has Federer, who has won a record 20 grand slam titles, and eight Wimbledons, lost as early as the second round in Halle. A major reason for Auger-Aliassime's win came down to his serve. Auger-Aliassime had 13 aces, while Federer only had five.
Auger-Aliassime will now face Marcos Giron of the United States on Friday in the quarterfinals. Giron had beaten Vasek Pospisil of Vernon, British Columbia in the first round, 7-6, 7-6.