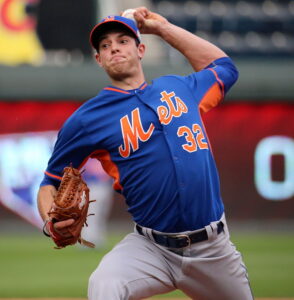 According to TSN on Monday, Toronto Blue Jays starting pitcher Steven Matz of Stony Brook, New York, has tested positive for coronavirus. Under coronavirus rules, Matz must self isolate for 10 days.
Matz has a record of seven wins and three losses with an earned run average of 4.26. After a terrible season last season with the New York Mets, Matz has turned his 2021 season around. In 13 starts and 69 2/3 innings pitched this year, Matz has given up 73 hits, 33 earned runs, and 21 walks, with 75 strikeouts, and a WHIP (walks and hits per innings pitched) of 1.35.
Matz is one of two Blue Jays who has tested positive for coronavirus this season. The other is outfielder Teoscar Hernandez of Cotui, Dominican Republic. So far this season, Hernandez is batting .294 with 10 home runs and 41 runs batted in.
At the time of Matz's positive diagnosis, the Blue Jays were in Boston. There have been 709, 012 cases of coronavirus in the state of Massachusetts and 17, 949 deaths. Massachusetts also has 2429 active cases, and 688,634 people have recovered.
The Blue Jays are one game above .500 at 33 wins and 32 losses. Even though they are only in fourth place in the American League East, Toronto is in playoff contention in the American League as they are four and a half games back of the Houston Astros for the second wildcard spot in the American League.