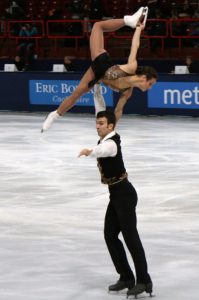 In gigantic figure skating news on Wednesday, Canadian Olympic gold medalist Eric Radford of Winnipeg, Manitoba has decided to come out of retirement according to Jacqueline Doorey of CBC Sports. His planned partner is interesting, as it will be World Championship bronze medalist Vanessa James of Scarborough, Ontario.
James has previously competed for France with her old partner, Morgan Cipres, but now hopes to compete for her native Canada as she has been released from the French figure skating program. Radford and James are now hoping to get the second Canadian spot in pairs figure skating for the 2022 Olympic Winter Games in Beijing. James was looking for a new partner after Cipres was facing legal trouble for sexual abuse allegations with a minor.
Radford had a fantastic figure skating career to date. He won the gold medal in the team figure skating competition at the 2018 Olympic Winter Games in Pyeongchang, silver medal in team figure skating at the 2014 Olympic Winter Games in Sochi, and a bronze medal in pairs figure skating at the 2018 Olympic Winter Games with Meagan Duhamel of Sudbury, Ontario. Duhamel meanwhile married their coach, Bruno Marcotte of Montreal, Quebec, in 2015, and in 2019, gave birth to daughter Zoey.
In addition to winning three Olympic medals, Radford teamed up to win four medals at the World Figure Skating Championships with Duhamel. They won gold in 2015 in Shanghai, China, and in 2016 in Boston, and bronze in 2013 in London, and in 2014 in Saitama, Japan. For my interview with Duhamel and Radford leading up to the 2018 Olympic Winter Games, please click here.