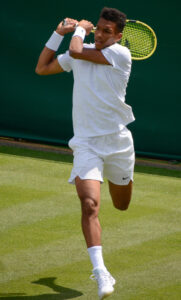 Felix Auger-Aliassime of Montreal, Quebec is in the quarterfinals of the 2021 Barcelona Open. Seeded 10th, Auger-Aliassime beat fellow Canadian Denis Shapovalov of Toronto, Ontario, 6-2, 6-3, in the third round of the ATP 500 clay-court tournament.
In the third round match, the most glaring statistics were double faults and break-point opportunities. Shapovalov had only one break-point chance and six double faults. Auger-Aliassime had nine break-point chances and only one double fault.
Auger-Aliassme has now beaten Shapovalov twice this season. He also beat Shapovalov 7-5, 7-5, 6-3 in the third round of the 2021 Australian Open in Melbourne this past February. Head-to-head, Auger-Aliassime has a record of three wins and two losses against Shapovalov. Auger-Aliassime also won their only prior meeting on clay, and that came in the first round of the 2019 Madrid Open, which Auger-Aliassime won 6-2, 7-6.
Next up for Auger-Aliassime is Stefanos Tsitsipas, the second seed from Greece. Auger-Aliassime has beaten Tsitsipas twice in the past. Auger-Aliassime was victorious in the second round of Indian Wells in 2019, 6-4, 6-2, and the quarterfinals of Queen's Club in London in 2019, 7-5, 6-2. Tsitsipas, however has the three games to two advantage over Auger-Aliassime, including a 7-5, 4-6, 6-3 win in the quarterfinals of Acapulco, Mexico in 2021.
At the 2021 Barcelona Open so far, Auger-Aliassime had a first round bye. He then beat rising Italian star Lorenzo Musetti 4-6, 6-3, 6-0 in the second round.