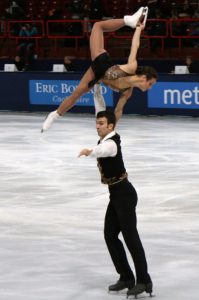 In my fourth of ten interviews of high performance Canadian athletes who are expected to contend for a medal at the 2018 Olympic Winter Games in Pyeongchang, here is my interview with Canadian Olympic silver medalists Meagan Duhamel of Sudbury, Ontario and Eric Radford of Winnipeg, Manitoba. Duhamel and Radford were part of the Canadian figure skating team that won silver in the team competition at the 2014 Olympic Winter Games in Sochi. Since then they won back-to-back gold medals in pairs figure skating at the 2015 World Figure Skating Championships in Shanghai and the 2016 World Figure Skating Championships in Boston. Last year however at the 2017 World Figure Skating Championships in Helsinki, Duhamel and Radford struggled and finished seventh.
Q: At the end of last season, you suffered a hip injury. How is it now?
ER: "It was actually a herniated disc in my back. That is what caused the problem in my hip. At the moment I am back to 100%. It is going to be something I am going to have to be careful with and be maintained over the season. Definitely I am back strong."
Q: A seventh place at the 2017 World Figure Skating Championships was not necessarily the result you and Eric were looking for. What did you learn from that experience that you hope will help you in the future?
MD: "I think that experience definitely put things in perspective in terms of results and not only how they affect our careers, but our lives. Since Sochi, we have never found ourselves off of the podium. It was the very first time we were not on the podium in three years. We woke up the next morning and life went on and everything was ok. Just because we came seventh once doesn't mean that we cannot contend for the gold medal the next time. We made a lot of changes to our game plan as we advance forward to the Olympic season. We have a new strategy, new team members, new choreographers, and new coaches. That is something that we would not have thought of changing had we not experienced that seventh place finish at the World Figure Skating Championships."
Q: What have been your personnel changes?
MD: "We are still working with our choreographer Julie Marcotte and we have added former British ice dancer John Kerr." (Since the interview in early June, Duhamel and Radford also officially announced the addition of John Zimmerman to their coaching staff. Zimmerman will assist Duhamel's husband Bruno Marcotte, who is Duhamel and Radford's head coach. Duhamel and Radford also parted ways with their former coach Richard Gauthier.)
Q: Discuss some of the technical changes you have made since the last Olympic Winter Games.
ER: "I definitely think after the last Olympics we took a big jump and made big changes in the sport of pairs figure skating by adding the throw quad. Meagan and I have always decided to do the side-by-side triple lutz. We are one of the only teams in the world that can do that. It is the most difficult side-by-side jump. Adding the throw quad was definitely a game changer. It certainly changed the face of pairs figure skating. We still do both of those elements and they will definitely be highlights of our Olympic programs."
Q: During the 2014 Olympic Winter Games in Sochi, you stated in an interview that both of you were happy to be there and were treating those Olympics as a learning experience. The long-term focus even then seemed to be on Pyeongchang. Since that time you have become two-time world champions. Do you feel any added pressure being a contender?
MD: "The position going into the Olympics were two totally different scenarios. In 2014, we were so happy to qualify for the Olympics after failing to qualify in Vancouver in 2010 with separate partners. At the time, that was our main objective was to go to the 2010 Olympics. In 2014, it felt a little bit like redemption in qualifying for the Olympic team. A new team event was added and we stood on the podium with our teammates with a silver medal. That was really exciting. We had decent skates with our individual (pairs short and long program) events and we were just satisfied and happy to be at the Olympics. This year, we will be going in with maybe a little bit more focus on us because we will be going in as medal contenders. At the end of the day we continued competing after Sochi because we didn't feel like we had skated to our potential at the Olympics (in 2014). Our Olympic dream is to leave the ice knowing that you did everything possible in that great moment. Everything aside, it is that moment we didn't have in Sochi and that is what pushed us to continue."
Q: You have composed a lot of music for figure skating. How important has your music background been to your figure skating career?
ER: "I think having a musical type background definitely helped and sort of expanded my skating career. I am someone who feels music very naturally. Musicality is a huge part of our sport. It is something that can definitely be worked on but isn't as natural for all skaters. I think just having an understanding of music in terms of rhythm, count and phrasing can also help in skating, especially in the future if I am interested in pursuing choreography. Having that understanding will definitely be an asset."
Q: There seems to be a little more depth in Canadian ice dancing than pairs at the moment. However, what can you tell me about Julianne Seguin and Charlie Bilodeau who won Skate America, and how impressed have you been with their progress?
MD: "Canada has a lot of depth in pairs figure skating actually. There are four teams that are capable of finishing in the top ten at the World Figure Skating Championships, which is remarkable. One of the teams that were left out at the World Championships—Michael Marinaro and Kirsten Moore-Towers have the ability to be in the top ten and to contend for medals in international events. Julianne and Charlie are obviously a very young team and they have had a lot of success. They are definitely the future of Canadian pairs skating. It doesn't end with them. You can't ignore Michael and Kirsten along with Dylan Moscovitch and Liubov Ilyushechkina."
Q: You have stated in the past you are not all that concerned about the final result, and that you are more focused on executing a successful performance which is in your control. How difficult is it not to be caught up in the numbers?
ER: "I think both Meagan and I are skating fans ourselves and we are very aware of what is going on in the skating world and we see the scores. I think there is part of us that are very naturally aware of the numbers and we are also very aware of our own numbers. We know what a one-mistake program will get. When we are in our starting position and when we are about to take the ice, all of that is not in our head at all. We are there to do our job and be in the moment, and perform for the audience. I think we are in control of our awareness and where we want to be in our competitions. At the same time, we are aware of the numbers and the scores, and I think we balance it very well."