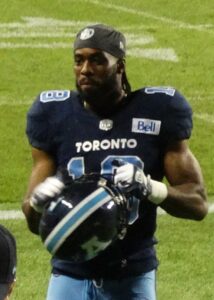 Three Canadians recorded touchdowns on winning teams in Week 16 of the Canadian Football League regular season. They were British Columbia Lions wide receiver Justin McInnis of Montreal, Quebec, Lions wide receiver Jevon Cottoy of Calgary, Alberta, and Toronto Argonauts wide receiver Dejon Brissett of Mississauga, Ontario. McInnis and Cottoy both had one touchdown catch in the Lions's 37-29 win over the Edmonton Elks on Friday, while Brissett had two touchdown catches for the Argonauts in a 29-14 win over the Hamilton Tiger-Cats on Saturday.
McInnis had a five-yard touchdown catch from Vernon Adams Jr. four minutes and 14 seconds into the game and open the scoring at Commonwealth Stadium. Cottoy then put the Lions up 13-7 with a 57-yard touchdown catch with four minutes and three seconds left in the first quarter. Cottoy had four catches for 88 receiving yards and McInnis had two catches for 22 receiving yards. On the season, Cottoy has 44 catches for 540 receiving yards and two touchdown catches, while McInnis has 38 catches for 565 receiving yards and five touchdowns. The Lions are now tied with the Winnipeg Blue Bombers for first place in the West Division at 10 wins and four losses.
Brissett's first touchdown was for 70 yards from quarterback Chad Kelly, came with three minutes and 41 seconds left in the first quarter, and put Toronto up 16-3. Brissett then had a nine-yard touchdown catch from Kelly for the only scoring in the third quarter (16 seconds left), and put Toronto up 27-4 at the time. In the game, Brissett had six catches for 98 receiving yards. On the season, he has 25 catches for 415 receiving yards and four touchdowns. The Argonauts are now at 12 wins and one loss, and lead the Eastern Division.