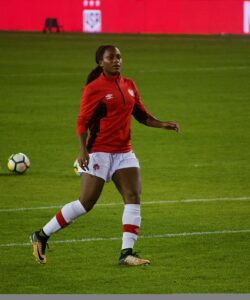 Team Canada won the first leg on Friday in Olympic women's soccer qualifying. Canada got a first half goal from Nichelle Prince of Ajax, Ontario in the 18th minute and a second half goal from Adriana Leon of Mississauga, Ontario in the third minute of extra time in a 2-0 win over Jamaica from Kingston, Jamaica.
Prince scored her 14th international goal for Canada in 92 games. It came on a header. One could argue it was one of the biggest goals Prince has scored in her career. She also scored for Canada in a 2-0 win over New Zealand at the 2019 FIFA Women's World Cup in Grenoble, France. It was one of two victories for Canada at the Women's World Cup four years ago, as they also beat Cameroon 1-0.
Leon's goal was the 30th of her international career in her 100th game. She actually had four goals in one game in an 11-0 Canada romp over Saint Kitts and Nevis  on January 29, 2020 in Edinburg, Texas. That was part of the Olympic qualifying tournament for the 2020 Olympic Games in Tokyo in 2021, where Leon and Prince won the gold medal. At the 2020 Olympic Games in 2021, Leon scored in a 1-1 Canada tie against Great Britain. She also scored in Canada's lone win at the 2023 FIFA Women's World Cup in Australia, a 2-1 Canada win over Ireland.
Canada and Jamaica next play in Toronto with Canada having the two goal advantage. The winner of the two game series will participate at the 2024 Olympic Games in Paris. They are France, being the host nation, the United States for winning the 2023 CONCACAF Women's Soccer Championship in Mexico in July, and Brazil and Colombia, for being the top two teams in the COPA Americas Women's Tournament in Colombia in July.
There was concern by many that Canada may struggle against Jamaica based on the performances from the 2023 Women's World Cup in Australia and New Zealand. There Canada failed to get out of the group stage, while Jamaica reached the knockout stage after a 1-0 win over Panama before losing 1-0 to Colombia.