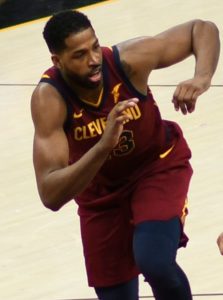 Tristan Thompson of Toronto, Ontario is looking for his second career NBA Finals title in 2018. A power forward and center for the Cleveland Cavaliers, Thompson is the only Canadian left in the 2018 NBA Playoffs.
In 11 postseason games in the 2018 NBA Playoffs, Thompson has averaged 5.9 points per game. While averaging 18.2 minutes per game, he has 5.5 rebounds and 0.5 assists.
Three times Thompson has reached double figures in points in the 2018 NBA Playoffs. On April 29 in game seven of the Eastern Conference quarterfinal series against the Indiana Pacers, Thompson had 15 points in a 105-101 Cleveland win. Then on May 1 in game one of the Eastern Conference semifinal series against the Toronto Raptors, Thompson had 14 points  in a 113-112 Cleveland win at the Air Canada Centre in Toronto.
On Saturday at the Quicken Loans Arena in Cleveland, Thompson scored 10 points in a 116-86 triumph over the Boston Celtics. With the win, the Cavaliers won their first game of the series but still trail the Celtics two games to one.
Thompson won his previous Larry O'Brien Championship Trophy (awarded to the NBA Finals champion) in 2016. That year the Cavaliers defeated the Golden State Warriors four games to three in the NBA Finals. The Cavaliers and Warriors have played in the last three NBA Finals, with Golden State winning in 2015 and 2017. It would not be surprising if Cleveland faces Golden State again in 2018. The Warriors currently lead the Houston Rockets 2-1 in the Western Conference Final, and even though the Cavaliers are trailing the Celtics, they clearly have momentum in the Eastern Conference Final.