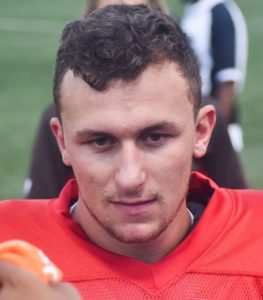 The Hamilton Tiger-Cats made football headlines throughout North America on Saturday when they announced the signing of quarterback Johnny Manziel. A product of the University of Texas A & M Aggies, Manziel made football history in 2012 when he became the first freshman to ever win the Heisman Trophy, which is awarded to the top college football player in the United States.
Manziel played another season for the Aggies in 2013, before being a first round draft pick of the Cleveland Browns in the 2014 National Football League Draft. Manziel started 11 games for the Browns over two seasons in 2014 and 2015, and completed 147 of his 258 passes for 1675 yards. He had seven touchdown passes, one rushing touchdown and seven interceptions.
However throughout the 2015 season, Manziel was also centered around controversy. In addition to an elbow and concussion ailment, it was reported that he was spending time in Las Vegas instead of with his Browns teammates. He was released by Cleveland on March 11, 2016.
Even though the Tiger-Cats have signed Manziel, there is no guarantee he will play. Manziel has not played a football game in three years and will be in a battle for the starting job in Hamilton. Jeremiah Masoli had a strong end to the 2017 Canadian Football League season. He helped Hamilton win six of their last 10 games after they started out losing their first eight. In fact, it would be a surprise that Manziel would be the starting quarterback to start the season for the Tiger-Cats.
There have been seven Heisman Trophy winners in the past who have played in the CFL. They are halfback Billy Vessels of the University of Oklahoma (1952) who played for the Edmonton Eskimos, running back Johnny Rodgers of the University of Nebraska (1972) who played for the Montreal Alouettes, quarterback Doug Flutie of Boston College (1984) who played for the British Columbia Lions, Calgary Stampeders and Toronto Argonauts, quarterback Andre Ware of the University of Houston (1989) who played for the Ottawa Rough Riders, British Columbia Lions and Toronto Argonauts, running back Ricky Williams of the University of Texas (1998) who played for the Toronto Argonauts, quarterback Eric Crouch of the University of Nebraska (2001) who played for the Toronto Argonauts and quarterback Troy Smith of Ohio State (2006) who played for the Montreal Alouettes.
Nicknamed "Johnny Football", Manziel joins "Johnny Hockey" as American athletes who now play on Canadian sports teams. "Johnny Hockey" is the nickname of Johnny Gaudreau of the Calgary Flames.