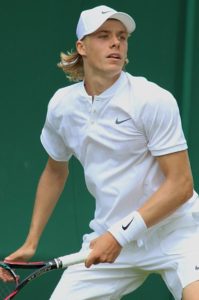 Dennis Shapovalov has once again beaten a grand slam tennis finalist. This time Sahapovalov's opponent was Japan's Kei Nishikori in the first round of the Abierto Mexicano Telcel in Acapulco (also known as the Mexican Open).
Shapovalov needed three sets to beat Nishikori, the 2014 U.S. Open finalist, 6-7, 6-3, 6-1, However Shapovalov dominated Nishikori in the third set, wasting no time whatsoever in losing only a single game.
Where Shapovalov dominated Nishikori was with his serve. Shapovalov had 11 aces, compared to Nishikori's zero, Shapovalov also won 78% of points on his first serve and saved 90% of Nishikori's break point opportunities.
Nishikori was the first grand slam finalist Shapovalov beat this season. However last year Shapovalov beat 2009 U.S. Open champion Juan Martin Del Potro of Argentina 6-3, 7-6 in the second round of the Rogers Cup in Montreal, 16-time and slam champion Rafael Nadal of Spain 3-6, 6-4, 7-6 in the third round of the Rogers Cup in Montreal and 2008 Australian Open finalist Jo-Wilfried Tsonga of France 6-4, 6-4, 7-6 in the second round of the U.S. Open. 
However, the tournament will get even tougher for Shapovalov. He next faces Austria's Dominic Thiem, the two-time French Open semi-finalist, and currently the sixth ranked player in the world, on Wednesday evening in the second round.