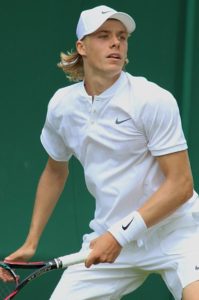 There is only one more Canadian singles player left at the 2017 Rogers Cup. The player left standing is from Richmond Hill, Ontario. However it is not Milos Raonic. It's Denis Shapovalov, the 143rd ranked player in the world.
On Wednesday, Shapovalov made huge progress as a single men's tennis player. He delivered a significant upset in beating the 2009 United States Open champion Juan Martin del Potro of Argentina, 6-3, 7-6 in the second round of the biggest tennis tournament held in Canada every year.
However before Canadian tennis fans have a chance to rejoice, they will have to face reality. Unfortunately, who Shapovalov will play next in Montreal is one of the greatest tennis players of all time in Rafael Nadal. Even though Shapovalov will get to play Nadal on not his best surface (hard court instead of clay), the bottom line is that Nadal will be the overwhelming favourite in the third round on Thursday.
Meanwhile, it was a tough loss for the sixth seeded and Canadian Milos Raonic, who lost 6-4, 6-4 to Adrian Mannarino of France. According to Sportsnet, Raonic was favouring his left wrist during the match and that could have been one of the reasons why he asked tournament organizers to move his match from Tuesday to Wednesday. It will be interesting to see if Raonic plays in Cincinnati in two weeks and the U.S. Open at the end of the month.