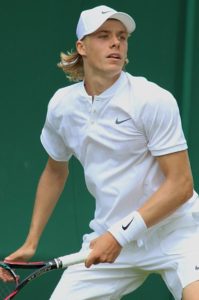 For the first time in his career, Dennis Shapovalov has beaten a seeded tennis player at a major tennis tournament. On Wednesday, Shapovalov beat eighth seed Jo-Wilfried Tsonga of France 6-4, 6-4, 7-6 in the second round of the 2017 U.S. Open from Flushing Meadows, New York.  
Shapovalov got off to a magnificent start. He broke the 2008 Australian Open finalist at love in the opening game of the first set.
Shapovalov was in complete control through the majority of the battle. The only real hiccup was the fact that he was broken by Tsonga in the third set when he was serving for the match. However, Shapovalov needs to be praised for his outstanding maturity at only the age of 18. He did not get rattled by Tsonga when he evened the score at five games apiece, and beat Tsonga handily 7-3 in the third set tiebreak.
Things will now get interesting for Shapovalov in his third round match in New York. He will face Kyle Edmund of Great Britain. Tennis enthusiasts will remember the match Shapovalov lost to Edmund. It came in the first round of the 2017 Davis Cup in Ottawa. Shapovalov was losing 6-3, 6-4, 2-1 to Edmund when he smashed the tennis ball in disappointment. In surprise, the ball hit the chair umpire, Arnaud Gabas of France in the eye. Shapovalov lost by default. Gabas needed facial surgery as a result.
Shapovalov got revenge on Edmund in the first round of Queen's. He beat Edmund on his native soil of Great Britain 7-6, 4-6, 6-4.