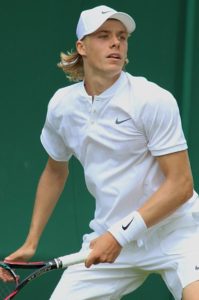 Denis Shapovalov of Richmond Hill, Ontario delivered one of the most electrifying moments in Canadian tennis history on Thursday. In the third round of the 2017 Rogers Cup, Shapovalov upset world ranked number two Rafael Nadal of Spain 3-6, 6-4, 7-6 in Montreal.
It was a tremendous performance for Shapovalov, who beat Nadal with his serve. He had nine aces compared to only two for Nadal.
The victory for Shapovalov could be one of the biggest moments in Canadian sports in 2017. After Milos Raonic lost to Adrian Mannarino of France 6-4, 6-4 on Wednesday, there were not any big expectations that Shapovalov would give Nadal a huge test. Canadian sports fans had every right to show mild optimism because Shapovalov had beaten a grand slam champion in Juan Martin del Potro in the second round on Wednesday, but del Potro just simply does not have the resume as Nadal, who is a 15-time grand slam champion.
Shapovalov joins Daniel Nestor (who beat Stefan Edberg of Sweden in the 1992 Davis Cup in Vancouver) and Milos Raonic (who beat Roger Federer in the semi-finals of Wimbledon in 2016) as one of the three greatest moments in the history of Canadian men's tennis. Shapovalov will now face Mannarino in one of the four quarterfinals on Friday.