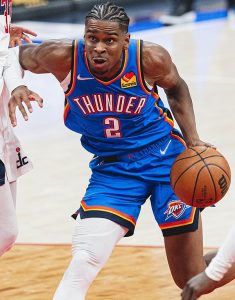 According to NBA Communications on Wednesday, Oklahoma City Thunder point guard Shai Gilgeous-Alexander of Toronto, Ontario was named to the 2022-23 All-NBA First Team. It was a sensational regular season for Gilgeous-Alexander, as he averaged 31.4 points per game, the fourth most number of points per game in the NBA. He was only behind Joel Embiid of the Philadelphia 76ers (33.1 points per game), Luka Doncic of the Dallas Mavericks (32.4 points per game), and Damian Lillard of the Portland Trail Blazers (32.2 points per game). Gilgeous-Alexander's 2135 points were also fourth in the NBA behind Jayson Tatum of the Boston Celtics (2225), Embiid (2183) and Doncic (2138).
Gilgeous-Alexander also averaged 5.5 assists per game, 4.8 rebounds per game, 1.6 steals per game, and one block per game. He had a field goal percentage of .510, three point percentage of .345, and a free throw percentage of .905. An all-star for the first time, Gilgeous-Alexander led all NBA players in two points shots made with 1213 and free throws made wth 669.
Gilgeous-Alexander was one of four players born outside the United States named to the 2022-23 All-NBA First Team. The others were Milwaukee Bucks power forward Giannis Antetokounmpo of Athens, Greece, center Embiid of Yaounde, Cameroon, and shooting guard Doncic of Ljubljana, Slovenia. The lone American selected to the team was Tatum, a small forward from St. Louis, Missouri.