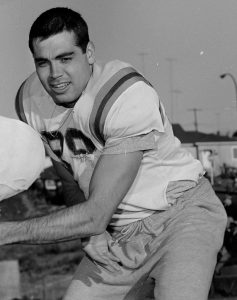 Former British Columbia Lions and Calgary Stampeders quarterback Joe Kapp passed away at the age of 85 on Monday. He has the distinction of being the only quarterback in football history to play in the Rose Bowl (1959), the Grey Cup (1964), and the Super Bowl (1969).
Of those three significant football games, it was only the Grey Cup that Kapp won. On November 28, 1964, the Lions beat the Hamilton Tiger-Cats 34-24 at the Canadian National Exhibition Stadium in Toronto, Ontario. Kemp completed 10 of 21 passes for 144 yards, and had three rushes for 18 yards.
Kapp completed 1476 passes in 2709 attempts for 22725 passing yards with the Stampeders (1959 to 1961), and the Lions (1961 to 1966). He had 136 touchdown passes and 129 interceptions. Kapp also had 579 rushes for 2784 rushing yards and 26 rushing touchdowns. He was also a two-time Canadian Football League All-Star in 1963 and 1964. In 1963, Kapp was the finalist for the most outstanding player award, but lost to Ottawa Rough Riders quarterback Russ Jackson of Hamilton, Ontario.
While in the National Football League, Kapp had one magical game for the Minnesota Vikings. On September 28, 1969 he tied the NFL record for most touchdown passes in a single game with seven as Minnesota beat the Baltimore Colts 52-14.
Kapp was inducted into the Canadian Football Hall of Fame in Hamilton in 1984. He also had his number 22 retired by the Lions.