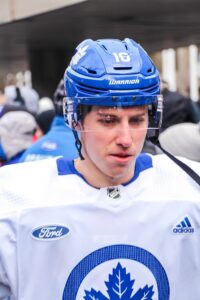 The Toronto Maple Leafs are still alive in the 2023 Stanley Cup Playoffs. On Wednesday, they defeated the Florida Panthers 2-1 at FLA Live Arena in Sunrise, Florida. However, the Maple Leafs still trail three games to one in the best out of seven series.
A loss in game four would have meant the the Maple Leafs would have been eliminated from the playoffs. Now the Eastern Conference second round playoff series shifts to the Scotiabank Arena in Toronto, Ontario on Friday with the Maple Leafs needing to win again.
Mitch Marner led the Maple Leafs in scoring with two points. He had one goal and one assist. Marner's goal was the game-winning goal at 10:03 of the third period from defenseman Jake McCabe to put Toronto up 2-0 at the time. Marner also set up a power-play goal by William Nylander of Calgary, Alberta at 3:29 of the first period to open the scoring. Michael Bunting of Scarborough, Ontario had the other assist. Even though Nylander is Calgary born, he represents Sweden internationally.
Marner had career highs in assists (69) and points (99) in the regular season. In the 2023 Stanley Cup Playoffs, he has three goals and 11 assists for 14 points in 10 games. Nylander is a +7 with two penalty minutes, one power-play goal, one game winning goal, 28 shots on goal, 10 blocked shots, 11 hits, 11 takeaways, and 11 giveaways.