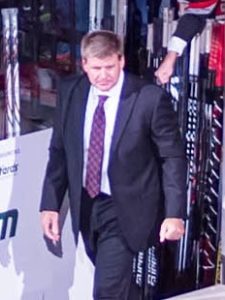 Bill Peters of Three Hills, Alberta has been named the 19th head coach in the history of the Calgary Flames organization on Monday. Peters becomes the fourth native of Alberta to coach the Flames, joining Brian Sutter, Brent Sutter and Darryl Sutter, all natives of Viking, Alberta.
ThIs is Peters' second head coaching assignment in the National Hockey League. The last four seasons Peters was the head coach of the Carolina Hurricanes. In 328 games, Peters led Carolina to a record of 137-138-53, but in each of those seasons the Hurricanes missed the Stanley Cup Playoffs.
Peters greatest success the last few years coaching hockey came at the 2016 International Ice Hockey Federation World Men's Hockey Championship in Moscow, Russia. That year Peters was Canada's head coach and Canada won the gold medal, as they defeated Finland 2-0 in the gold medal game. Peters will be Canada's head coach at the 2018 World Championship in Copenhagen, Denmark. Team Canada will try to reach the top of the podium after losing 2-1 to Sweden in the gold medal game last year in Cologne, Germany.
Peters also has a connection to Flames general manager Brad Treliving of Penticton, British Columbia. At the 2016 World Championship, Treliving was a co-general manager for Canada with George McPhee of Wallaceburg, Ontario, who is now the general manager of the extremely successful Vegas Golden Knights.