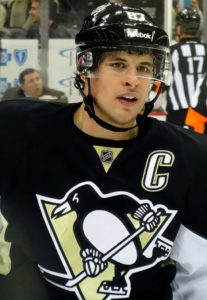 The Pittsburgh Penguins  are heading into the second round of the 2018 Stanley Cup Playoffs, and a major reason for Pittsburgh's success the last 10 days has been because of the outstanding play of team captain Sidney Crosby of Cole Harbour, Nova Scotia. In six games, Crosby had six goals and seven assists for 13 points and co-led the Penguins in scoring during the first round with Jake Guentzel, who also had six goals and seven assists for 13 points.
In game six on Sunday a 8-5 Pittsburgh win over the Philadelphia Flyers, Crosby had one goal and two assists for three points. With the win, the Penguins won the best out of seven series four games to two.
Crosby scored Pittsburgh's first goal at 6:30 of the first period from Kris Letang of Montreal, Quebec and Brian Dumoulin to tie the game at one at the time. Crosby then picked up an assist on a goal by Patric Hornqvist with 6:25 left in the second period to pull the Penguins within a goal, (as they trailed the Flyers 4-3 at the time). Crosby's third point came on a game winning goal by Guentzel at 12:48 of the third period which put Pittsburgh up 6-4.
Game six was a magical game for Guentzel, who had four goals and one assist for five points. Other Penguins with multi-point games were Letang (three assists), Hornqvist (one goal and two assists) and Kessel (two assists).
The Penguins will now play the winner of the Washington Capitals and Columbus Blue Jackets. The Capitals lead that series three games to two.