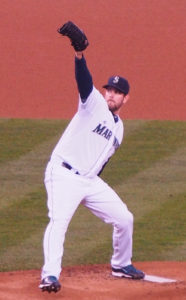 James Paxton of Ladner, British Columbia set the Canadian record for most strikeouts in a Major League Baseball game on Wednesday. According to TJ Cotterill of the News Tribune, Paxton set the record when he had 16 strikeouts for the Seattle Mariners in their 3-2 loss to the Oakland Athletics at Safeco Field in Seattle.
Paxton struck out the side in the first and seventh innings and collected two strikeouts each in the second, third, fourth, fifth and sixth innings. Of the 105 pitches Paxton threw, 80 were strikes. However even though Paxton threw seven shutout innings, the Mariners bullpen struggled as Juan Nicasio and Edwin Diaz gave up three runs in two innings.
The previous Canadian record was held by Erik Bedard of Ottawa, Ontario who had 15 strikeouts for the Baltimore Orioles in a 3-0 win over the Texas Rangers on July 7, 2007.
Paxton saw his earned run average drop from 5.12 to 4.19 with Wednesday's quality start. In seven games to start the season, Paxton has pitched very effectively in five games and struggled in his other two. Despite four quality starts, Paxton only has one win (a 2-1 win over the Houston Astros on April 16).
In other Canadian baseball news, Mike Soroka of Calgary, Alberta made his Major League Baseball debut on Tuesday and was brilliant as he only gave up one earned run in six innings in a 3-2 Atlanta Braves win over the New York Mets. At only 20 years of age, Soroka has the potential to be the Braves ace for many years to come.