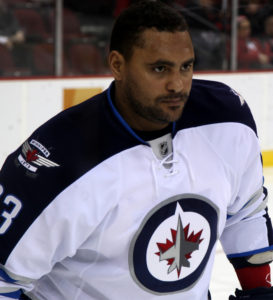 The Winnipeg Jets are finding ways to score goals in the 2018 National Hockey League Stanley Cup Playoffs. On Tuesday the Jets scored seven goals to increase the total number of goals they have scored in the playoffs to 35 in eight games.
In Tuesday's win, three Jets had three point games. Dustin Byfuglien and Blake Wheeler each had two goals and one assist, while Paul Stastny had one goal and two assists in a 7-4 Winnipeg win over the Nashville Predators. Other Jets goal scorers were Brandon Tanev of Toronto, Ontario and Jacob Trouba.
There is no doubt there is great excitement for the Jets in not only Winnipeg but throughout Canada. The Jets have never won a Stanley Cup in franchise history, but seem as capable as any team left at the moment. They are one of five teams that are 10 wins away from winning the Stanley Cup. They are joined by the San Jose Sharks, those pesky Vegas Golden Knights, the Washington Capitals and Tampa Bay Lightning.
Three Jets have reached double digits in point production in the 2018 Stanley Cup Playoffs. Mark Scheifele of Kitchener, Ontario leads the Jets with 12 points, while Byfuglien and Wheeler have 10 points each. Game four of the Jets' second round series with the Nashville Predators, which Winnipeg currently leads 2-1, goes Thursday at the Bell MTS Place in Winnipeg, Manitoba on Thursday.