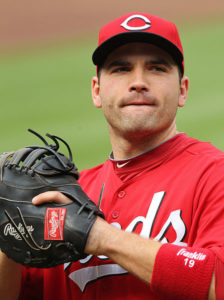 Cincinnati Reds first baseman Joey Votto of Toronto, Ontario was named the National League player of the week for the period from April 23 to 29. It was the fifth time in Votto's career that he has been named the National League player of the week.
Votto batted .360 with four home runs and eight runs batted in during the seven game stretch. He scored nine runs, had one double and walked nine times.
Votto significantly improved his statistics after a slow start to the season. Prior to April 23, Votto was batting .243 with only one extra base hit (a double) in 71 at bats.
The Reds meanwhile have got off to a horrendous start to begin the 2018 Major League Baseball regular season. They have a record of seven wins and 24 losses in their first 31 games, and are already 11.5 games back of the Milwaukee Brewers, who lead the National League Central with a record of 19 wins and 13 losses.
The Reds winning percentage of .226 is also the worst in Major League Baseball. At -46, the Reds have the second worst runs for and against ratio in the National League. Only the Miami Marlins at -52 are worse.
The Reds were also the first team in Major League Baseball to make a managerial change this season. On April 19, they announced that Bryan Price was fired and that Jim Riggleman would be the interim manager.