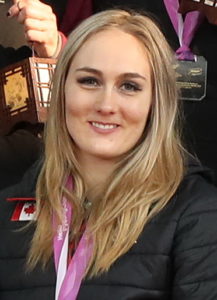 According to Geoff Berkeley of Inside the Games on Thursday, Canadian bobsledders won gold and silver at a Women's Monobob World Series event in Innsbruck, Austria. Melissa Lotholz of Barrhead, Alberta placed first, while Cynthia Appiah of Toronto, Ontario was second.
Lotholz posted a winning time of one minute, 54.26 seconds. Appiah was second with a time of one minute, 54.68 seconds. Karlien Sleper of the Netherlands won the bronze medal with a time of one minute, 54.86 seconds.
Lotholz reached the podium by 0.93 seconds over fourth place finisher Linda Zueblin of Switzerland, who had a time of one minute, 55.19 seconds. Appiah meanwhile, reached the podium by 0.51 seconds.
Women's monobob will make its Olympic debut at the 2022 Olympic Winter Games in Beijing. This is an effort by the International Olympic Committee to equalize the number of bobsled events per gender. Since the 2002 Olympic Winter Games in Salt Lake City, there have been two Olympic events in men's bobsled and one event for women's bobsled. However, there is still gender disparity regarding the number of athletes competing as men compete in two-men and four-men, while women will be competing in monobob and two-women.
This is third medal for Lotholz in women's monobob at the World Series level. She previously won gold in Calgary and bronze in Konigssee in 2019. There will be another Women's Monobob World Series event in St. Moritz, Switzerland on Saturday. Christine De Bruin of Edmonton, Alberta will represent Canada.