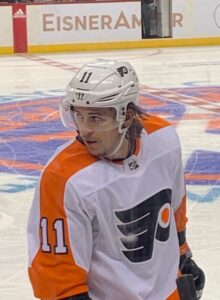 According to Hockey Reference on Friday, Philadelphia Flyers center Travis Konecny of London, Ontario registered his first career National Hockey League hat trick in a 5-2 Flyers win over the Pittsburgh Penguins. With the four-point performance, (three goals and one assist), Konecny is now tied with Edmonton Oilers center Connor McDavid of Richmond Hill, Ontario, with the most goals this season (three), and Canadian Olympic gold medalist and Toronto Maple Leafs centre John Tavares of Mississauga, Ontario, Tampa Bay Lightning centre Steven Stamkos of Mississauga, Ontario, and reigning Hart and Art Ross Trophy winner Leon Draisaitl of the Edmonton Oilers with the most points this season (five).
McDavid registered the first hat trick of the 2020-21 NHL season on Thursday in a 5-2 Oilers win over the Vancouver Canucks. Tavares meanwhile won a gold medal for Canada at the 2014 Olympic Winter Games in Sochi.
Konecny scored the first two goals of the hockey game. The first was from Claude Giroux of Hearst, Ontario, and Jakub Voracek at 7:27 of the first period on the power play. The second was from Nolan Patrick of Winnipeg, Manitoba, and James Van Riemsdyk at 9:26 of the first period. Konecny then notched his hat trick at 12:53 of the third period to put the Flyers up 4-2. He scored from Giroux and Kevin Hayes.
The Flyers beat the Penguins in the first two games of the season. On Wednesday, Philadelphia also won by three goals, 6-3.