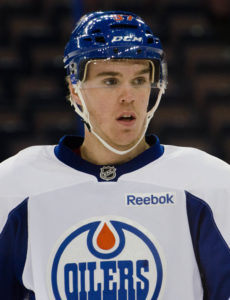 The 2020-21 National Hockey League regular season is only two days old and we have our first hat trick of the season. On Thursday night, Connor McDavid of Richmond Hill, Ontario scored thrice as the Edmonton Oilers beat the Vancouver Canucks 5-2. With the win, the Oilers improved to one win, and one loss.
This was McDavid's seventh career regular season hat trick, and first against the Canucks. With the hat trick, he also leads the NHL this season in goals with three.
In the Oilers' home win over the Canucks at Rogers Place, McDavid put the Oilers up 2-0 on a goal with one second left in the first period from Kailer Yamamoto and Leon Draisaitl. McDavid then scored the game-winning goal on the power play at 8:26 of the second period to put the Oilers up 3-1 at the time. Tyson Barrie of Victoria, British Columbia, and Draisaitl picked up the assists. For Barrie, it was his first point with the Oilers since he joined the team from the Toronto Maple Leafs as a free agent in the offseason. Then, McDavid notched his hat trick at 15:08 of the second period from Draisaitl and Ryan Nugent-Hopkins of Burnaby, British Columbia to put the Oilers up 4-2.
McDavid, who ended up with four points (three goals and one assist), was one of four Oilers with a multi-point game. The others were Draisaitl (four assists), Nugent-Hopkins (two goals and one assist), and Yamamoto (two assists). Draisaitl leads the NHL right now with five assists and five points.