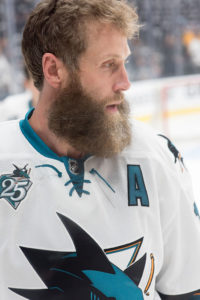 The Toronto Maple Leafs have signed center and Canadian Olympic gold medalist Joe Thornton of London, Ontario from the San Jose Sharks to a one-year contract worth $700,000 according to the Canadian Press. The Maple Leafs become Thornton's third National Hockey League team. In addition to the Sharks, Thornton has played for the Boston Bruins.
Thornton had seven goals and 24 assists for 31 points in 70 games in 2019-20. He was also a -19 with 34 penalty minutes, eight power play points, one game winning goal, 76 shots on goal, 323 faceoff wins, 29 blocked shots, 20 hits, 55 takeaways, and 33 giveaways. Thornton's game winning goal this past season came in a 3-1 San Jose win over the Columbus Blue Jackets on January 9.
At 41 years of age, Thornton is ninth all-time on the NHL games played list with 1636. He is second among active players, as he only trails San Jose Sharks forward Patrick Marleau of Swift Current, Saskatchewan, who has 1723 games.
In 22 NHL seasons, Thornton has 420 goals and 1089 assists for 1509 points. The first overall pick of the 1997 NHL Entry Draft, Thornton made hockey history in 2005-06. That season he became the only player ever to win the Hart Trophy while playing for two different teams. He had been traded from the Bruins to the Sharks during the season. Then four years later, Thornton won a gold medal for Team Canada at the 2010 Olympic Winter Games in Vancouver.