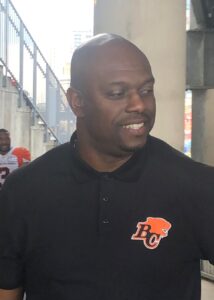 The British Columbia Lions are now in need of a new general manager. That is because on Friday, Ed Hervey of Houston, Texas resigned due to personal reasons according to The Canadian Press.
Hervey had been the general manager for two seasons with the Lions in 2018 and 2019. In that period of time, the Lions struggled on the football field as they had a record of 14 wins and 22 losses.
The most significant signing by Hervey while with the Lions was that of quarterback Mike Reilly from the Edmonton Eskimos. Reilly and Hervey were together with the Eskimos in 2015 when Edmonton won the Grey Cup, however Reilly and Hervey were unable to duplicate their success together with the Lions, as B.C. only had a record of five wins and 13 losses last season.
In addition to his two seasons as the Lions GM, Hervey was general manager of the Eskimos for four seasons from 2013 to 2016. In fact, it was Hervey who brought Reilly to the Eskimos from the Lions seven years ago.
As a player, Hervey was a wide receiver for the Eskimos from 1999 to 2006. He caught 476 passes for 6715 yards and 43 touchdowns. Hervey was a CFL All-Star with the Eskimos in 2001 and 2003, and won two Grey Cups with Edmonton in 2003 and 2005.