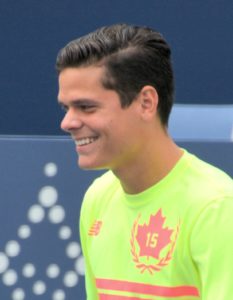 Milos Raonic of Thornhill, Ontario, and Denis Shapovalov of Toronto, Ontario are both in the semifinals of the 2020 St. Petersburg Open in Russia which takes place on Saturday. Raonic, the sixth seed, will face Borna Coric of Croatia, the seventh seed. Shapovalov, the second seed, will ace Andrey Rublev of Russia, the third seed.
In the quarterfinals on Friday, Shapovalov defeated Switzerland's Stanislas Wawrinka, the fifth seed, 6-4, 7-5. It was the second time that Shapovalov had beaten the three-time grand slam champion. He previously beat Wawrinka in the second round of the 2018 Rakuten Japan Open Tennis Championship from Tokyo, 4-6, 6-1, 6-4.
Raonic meanwhile got by Russia's Karen Khachanov 6-1, 7-6 without recording an ace in the first set. All 15 of Raonic's aces came in the second set. However, Raonic was brilliant in the first set against Khachanov as he won 64% of the total points and broke Khachanov's serve rather easily twice. Even though Khachanov was seeded third in the tournament, one must remember that Raonic has won the St. Petersburg Open before. He was the champion in 2015 when he beat Joao Sousa of Portugal 6-3, 3-6, 6-3 in the final.
This will be the second time that Raonic has played Coric. Raonic won their previous match, 6-3, 7-6 in the second round of Delray Beach in 2017 in Florida.
Shapovalov has beaten Rublev two of three times. Shapovalov's wins came in the third round of the 2019 Miami Masters by a score of 6-3, 7-6, and in the quarterfinals of Winston-Salem in North Carolina in 2019, by the same score of 6-3, 7-6.