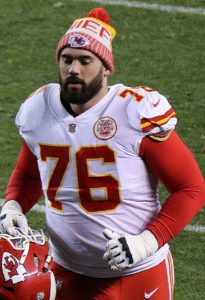 According to CBC News on Saturday, Kansas City Chiefs offensive lineman Dr. Laurent Duvernay-Tardif of Montreal, Quebec has won the 2021 Muhammad Ali Sports Humanitarian of the Year Award at the ESPN ESPY Awards. Duvernay-Tardif, who won the 2020 Lou Marsh Award for winning a Super Bowl with the Kansas City Chiefs a year ago, made global sports headlines for opting out of the 2020 National Football League regular season to assist at a Montreal long-term care facility.
Quebec was hammered by coronavirus a year ago, and Duvernay-Tardif, who has a medical degree from McGill University, decided to leave the Chiefs for a season and assist those in desperate need. He plans on returning to professional football in September.
There is no doubt that the Chiefs need Duvernay-Tardif. At the 2021 Super Bowl, the Chiefs offensive line was by far their weakest link as quarterback Patrick Mahomes had very little time to make quality decisions. The Tampa Bay Buccaneers defensive line is the primary reason why Tom Brady was able to collect another Super Bowl.
Meanwhile, it is absolutely stunning that Edmonton Oilers captain Connor McDavid of Richmond Hill, Ontario did not win the top National Hockey League player award when he was already nominated for best male athlete. Patrick Kane was the top NHL player, while Brady was named top male athlete. This was a complete and ridiculous oversight.