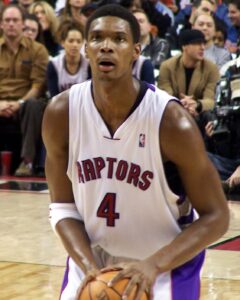 Former Toronto Raptors center Chris Bosh of Dallas, Texas has been selected to the Naismith Memorial Basketball Hall of Fame for 2021 according to the Associated Press on Sunday. Bosh played seven seasons with the Raptors before six seasons with the Miami Heat to close out his NBA career.
In 509 games in Toronto from 2003 to 2010, Bosh averaged 20.2 points per game, 9.4 rebounds per game, and 2.2 assists per game. Bosh's best season with the Raptors came in 2009-10, his last season in Toronto. That year he averaged career-highs in points per game (24), and rebounds per game (10.8). It was also Bosh's last season with the Raptors before he was traded to the Heat on July 10, 2010. At the time, the Heat were putting together a superteam that included LeBron James and Dwyane Wade. The trio would go on to lead Miami to the 2012 and 2013 NBA Finals.
Bosh was initially selected by the Raptors as the first-round pick, fourth overall, in the 2003 NBA Draft. He would go on to represent the Raptors in five consecutive NBA All-Star games from 2006 to 2010.
Bosh is the Raptors all-time leader in several categories. They include offensive rebounds (1369), defensive rebounds (3407), total rebounds (4776), blocks (600), and rebounds per game (9.4). He was also instrumental in guiding the Raptors to back-to-back playoff appearances in 2007 and 2008.