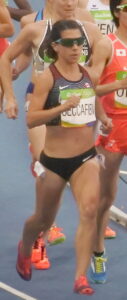 Andrea Seccafien of Guelph, Ontario set the Canadian record in the women's 1000 metres on Friday. The 30-year-old posted a time of 31 minutes, 13.94 seconds to win the Sound Running Track Meet in Irvine, California.
In placing first, Seccafien even shattered her personal best time of 31 minutes and 45 seconds, which was previously set in Australia in January. She has been training in Melbourne this past year in preparation for the 2020 Olympic Games in Tokyo in 2021.
In the California competition on Friday, Ednah Kurgat of Kenya won the silver medal with a time of 31:21.65, and Sara Hall of the United States won the bronze medal with a time of 31:21.90. Seccafien reached the podium by 11.25 seconds over fourth-place finisher Makena Morley of the United States.
The previous Canadian record belonged to Natasha Wodak of Surrey, British Columbia. Wodak had a time of 31:41.59 at the 2015 Payton Jordan Invitational in Palo Alto, California. That same season of 2015, Seccafien did not participate in athletics because of a foot injury.
Seccafien also ran 11:06 seconds faster than the Canadian Olympic standard time of 31 minutes and 25 seconds. In addition to holding the Canadian record in the women's 10000 metres, Seccafien also has the Canadian record in the women's half-marathon. She set that record in Marugame, Japan with a time of one hour, nine minutes, and 38 seconds in February of 2020.