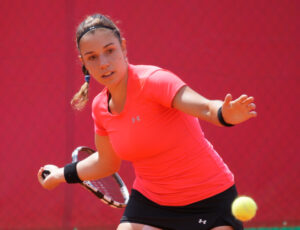 Sharon Fichman of Toronto, Ontario has won her fourth career women's doubles tournament. On Sunday, Fichman teamed up with Giuliana Olmos of Mexico to beat Kristina Mladenovic of France, and Marketa Vondrousova of the Czech Republic 4-6, 7-5, 10-5 in the final of the Italian Open.
This would be considered the biggest doubles victory in Fichman's career. She has won thrice before, but those were smaller tournaments. Fichman becomes the second Canadian woman to win the Italian Open in women's doubles. In 1990, Helen Kelesi of Richmond, British Columbia combined with the legend Monica Seles (who was representing Yugoslavia at the time), and beat the Italian duo of Laura Garrone and Laura Golarsa 6-3, 6-4. On the men's side, Grant Connell of Vancouver, British Columbia won the Italian Open in men's doubles in 1996, while Daniel Nestor of Toronto, Ontario won the Italian Open in 1997, 2006, 2009, and 2014.
The last time Fichman won a WTA event in women's doubles came in March of 2020. There she teamed up with Kateryna Bondarenko of the Ukraine to win the Monterrey Open in Mexico. Fichman and Bondarenko beat Yafan Wang of China and Miyu Kato of Japan 4-6, 6-3, 10-7.
Fichman's first two WTA doubles titles came with Americans as partners. In 2014, Fichman and Maria Sanchez beat Lucie Hradecka of the Czech Republic and Michaella Krajicek of the Netherlands 2-6, 6-0, 10-4. Then in July of 2019, Fichman and Nina Stojanovic of Serbia beat Jelena Ostapenko of Latvia and Galina Voskoboeva of Kazakhstan 2-6, 7-6, 10-6.