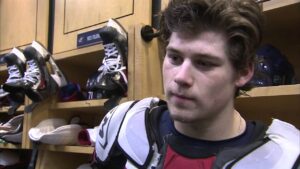 The Montreal Canadiens remain alive in the 2021 Stanley Cup Final. On Monday, Josh Anderson of Burlington, Ontario scored twice, including the overtime winner, as the Canadiens defeated the Tampa Bay Lightning 3-2 in game four of the Stanley Cup Final from the Bell Centre in Montreal, Quebec. With the win, the Canadiens stayed alive in the series, but still trail the Lightning three games to one in the best out of seven series.
For Anderson, it was his second overtime winner of the 2021 Stanley Cup Playoffs. The first goal came on June 18 in a 3-2 Canadiens win over the Vegas Golden Knights in game three of the Stanley Cup semifinals. Just like the game on Monday night, Anderson scored twice. His first goal of the game against Vegas seemed to change the overall complexion of the series, as Anderson was the recipient of a bad Marc-Andre Fleury giveaway. From Monday night's game, the Canadiens will be hoping their goal gives them momentum as they head to central Florida for a fifth game of the series.
The other Canadiens goal scorer on Monday was Russian defenseman Alexander Romanov. The 21-year-old blueliner made Canadiens history as he became the youngest defenseman to score a goal in the Stanley Cup Finals, according to Erik Leijon of the Montreal Gazette. Meanwhile, when Nick Suzuki of London, Ontario recorded an assist on Anderson's first goal, he became the youngest Canadiens player ever to record a point in three straight Stanley Cup Finals games at 21 years old. Another young Canadiens player, Cole Caufield, also had a multi-point game as he had two assists.