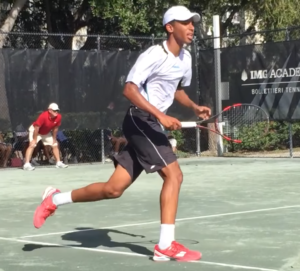 For the first time in the history of grand slam tennis, two Canadians are in the quarterfinals from the same draw of the same grand slam singles event. On Monday, in the final Manic Monday in the history of Wimbledon, Denis Shapovalov of Toronto, Ontario and Felix Auger-Aliassime of Montreal, Quebec both reached the men's singles quarterfinals.
Shapovalov, the 10th seed, defeated the eighth seed, Roberto Bautista Agut of Spain, 6-1, 6-3, 7-5. The major reason why Shapovalov is in the final eight came down to the serve. Shapovalov had 16 aces, while Bautista Agut only had one. Bautista Agut had reached as far as the semifinals of Wimbledon in 2019 before losing to Novak Djokovic of Serbia.
Auger-Aliassime, the 16th seed, defeated the fourth seed Alexander Zverev of Germany, 6-4, 7-6. 3-6, 3-6, 6-4. Like the Shapovalov match, the major reason why Auger-Aliassime is the final eight of the men's draw came down to the serve. Auger-Aliassime had 17 aces compared to Zverev's nine, while Zverev had a whopping total of 20 double faults, while Auger-Aliassime had six.
Shapovalov will now play the 25th-ranked Karen Khachanov of Russia in the quarterfinals on Wednesday. Head-to-head, Shapovalov has played Khachanov once, and that was in the semifinals of Davis Cup action from Madrid, Spain in 2019. Shapovalov was victorious, 6-4, 4-6, 6-4.
Auger-Aliassime will now play the 7th seed Matteo Berrettini of Italy in the quarterfinals on Wednesday. Berrettini has won their only meeting, by a score of 6-4, 7-6, in the final of the 2019 Mercedes Cup in Germany, which was a leadup to Wimbledon two years ago.