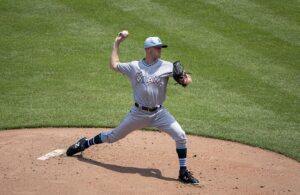 The Toronto Blue Jays acquired right-handed relief pitcher Trevor Richards from the Milwaukee Brewers and minor-league pitcher Bowden Francis for first baseman Rowdy Tellez according to Rogers Sportsnet on Tuesday. The deal by the Blue Jays makes complete sense because their bullpen has been downright horrendous, while Tellez was clearly the Blue Jays backup first baseman behind Vladimir Guerrero of Montreal, Quebec.
This was the second time this season that Richards was traded. On May 21, he was traded from the Tampa Bay Rays to the Brewers with shortstop Willy Adames for relief pitchers Drew Rasmussen and J.P. Feyereisen.
Richards has a record of three wins and zero losses this season while with the Brewers and Tampa Bay Rays. All three of his wins came with the Brewers, as he did not have a decision with Tampa Bay. In 21 games, he had one hold, one save, an earned run average of 3.69, and a WHIP (walks and hits per innings pitched) of 1.14. In 31 2/3 innings, Richards gave up 24 hits, 13 earned runs, 12 walks, and had 42 strikeouts. Richards's wins came in a 7-4 Brewers win over the Pittsburgh Pirates on June 12, in a 6-5 Brewers win over the Colorado Rockies on June 19, and in a 15-7 Brewers win over the Chicago Cubs on June 30.
Richards's save and hold were with the Rays. His save came in a 14-7 Rays win over the Kansas City Royals on April 20, and his hold came in a 4-3 Rays win over the Oakland Athletics on April 27.
The Blue Jays are Richards's fourth team. In addition to the Brewers and Rays, Richards pitched two seasons with the Miami Marlins.
Tellez meanwhile played the last four seasons with the Blue Jays. In 139 at bats this season, he batted .209, with four home runs and eight runs batted in. Tellez also scored 12 runs and had 29 hits, four doubles, one triple, nine walks, 47 total bases, a slugging percentage of .338, and an on base percentage of .272.
The Blue Jays are currently at 44 wins and 40 losses after 84 games in the 2021 Major League Baseball regular season. They are three and a half games back of Oakland for the second wildcard spot in the American League.