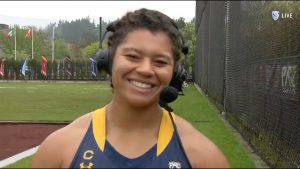 Camryn Rogers of Richmond, British Columbia broke her own Canadian record in the women's hammer throw on Saturday. At the 2023 Mount San Antonio College Relays Track and Field Competition in Walnut, California, Rogers had a throw of 77.84 metres.
Rogers reached the podium by 10.4 metres over Joy McArthur of Japan, who finished in fourth place with a throw of 67.44 metres. Anna Purchase of Great Britain won the silver medal with 69.97 metres. Sara Killinen of Finland won the bronze medal with a throw of 67.93 metres.
Rogers's previous high throw of 77.67 metres. That took place at the 2022 National Collegiate Athletic Association Division One Outdoor Track and Field Championships in Eugene, Oregon. Rogers not only set the Canadian record, but the NCAA Division One record as well.
Rogers was one of two Canadians to earn a medal in Walnut. Adam Keenan of Victoria, British Columbia won the silver medal in the men's hammer throw. Keenan had a throw of 74.26 metres and was only behind Diego Del Real of Mexico who had a throw of 75.25 metres. To put Rogers's throw into perspective, she had a throw of 2.59 metres more than the men's gold medalist in the event. Rogers's throw was also the best throw of any woman in 2023 and is the seventh best throw by a woman of all-time. The world record holder is Anita Woodarczyk of Poland, who had a throw of 82.98 metres at the Kamila Skolimowska Memorial in Warsaw, Poland on August 28, 2016. The medals for Rogers and Keenan will give them confidence as they prepare for the 2024 Olympic Games in Paris.