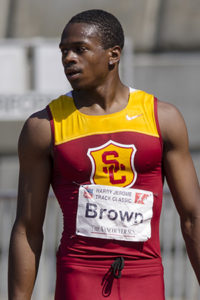 Aaron Brown of Toronto, Ontario won his second medal of the 2018 Diamond League season in Oslo, Norway on Thursday. Brown won the silver medal in the men's 200m event, which came 12 days after winning a bronze medal at the Prefontaine Classic in Eugene, Oregon.
Brown's time of 19.98 seconds in the men's 200m, was a personal best. Ramil Guliyev of Turkey won the gold medal with a time of 19.9 seconds. Jereem Richards of Trinidad and Tobago won the bronze medal with a time of 20.19 seconds.
Brown reached the podium by 0.23 seconds. Adam Gemili of Great Britain finished in fourth place with a time of 20.21 seconds.
The fact that Brown reached a personal best is something Canadian track fans should get excited about with the 2020 Olympic Games in Tokyo two years away. Brown was also 0.09 seconds faster than his time of 20.07 seconds, which won him bronze at the Prefontaine Classic.
This was also the first time in Brown's career that he ran a men's 200m event under 20 seconds. His previous best time in the men's 200m was 20 seconds flat at the Louisiana State University Invitational on April 30, 2016.
One can definitely make the argument that Brown has had a better sprint season than Canadian star Andre de Grasse of Scarborough, Ontario, who has not yet won a medal in the Diamond League Series in 2018. De Grasse, who won three medals for Canada at the 2016 Olympic Games in Rio de Janeiro,did not compete at the 2017 International Association of Athletics Federations World Championships in Athletics because of a hamstring injury.