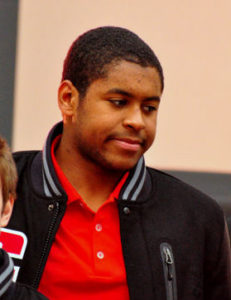 Devante Smith-Pelly of Scarborough, Ontario scored in game five of the 2018 Stanley Cup Finals on Thursday. He was one of four Capitals players to beat Golden Knights goaltender Marc-Andre Fleury in a 4-3 Washington win. With the victory, the Capitals won their first Stanley Cup in franchise history.
Smith-Pelly's goal came at 9:52 of the third period from defenseman Brooks Orpik. At the time the goal tied the hockey game at three goals apiece.
Smith-Pelly had seven goals and one assist for eight points in the 2018 Stanley Cup Playoffs. He had two game winning goals. The first came in game six in the first round against the Columbus Blue Jackets and the second came in game four of the Stanley Cup Finals against the Vegas Golden Knights.
There were eight Canadians who won the 2018 Stanley Cup. Smith-Pelly was joined by Jay Beagle of Calgary, Alberta, Madison Bowey of Winnipeg, Manitoba, Alex Chiasson of Montreal, Quebec, Brett Connolly of Campbell River, British Columbia, Braden Holtby of Lloydminster, Saskatchewan, Chandler Stephenson of Saskatoon, Saskatchewan and Tom Wilson of Toronto, Ontario.
The Capitals are also the very first Stanley Cup champion since 1991 to be trailing in every playoff series and win the Stanley Cup. In 1991, the Pittsburgh Penguins actually lost the first game in all four of their playoff series, but found a way to win each series for their first Stanley Cup in franchise history.