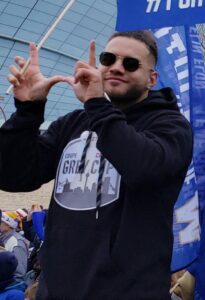 Winnipeg Blue Bombers running back Brady Oliveira of Winnipeg, Manitoba and Montreal Alouettes wide receiver Tyson Philpot of Delta, British Columbia recorded touchdowns for winning teams in Week 17 of the Canadian Football League season. Oliveira had a five-yard touchdown catch in a 31-21 Blue Bombers win over the Toronto Argonauts at IG Field in Winnipeg, Manitoba on Friday, and Philpot had a 19-yard touchdown catch in a 32-15 Alouettes win over the Ottawa Redblacks at Toronto Dominion Place Stadium in Ottawa, Ontario on Saturday.
Oliveira's touchdown opened the scoring at 5:17 of the first quarter. It was a pass from Blue Bombers quarterback Zach Collaros. Oliveira had two catches for 12 receiving yards and 25 rushes for 169 rushing yards. On the season, he has 227 rushes for 1359 rushing yards (leads the CFL) and six touchdown rushes, along with 29 catches for 380 receiving yards and four touchdown catches. With the win, the Blue Bombers improve to a record of 11 wins and four losses and are tied with the British Columbia Lions for first place in the West Division.
Philpot's touchdown came with 48 seconds left in the first half and put the Alouettes up 14-0. The touchdown came off a pass from Cody Fajardo. Philpot finished the game with three catches for 41 receiving yards. On the season, Philpot now has 35 catches for 388 receiving yards and two touchdowns, along with one rush for two yards. With the win, Montreal improved to a record of eight wins and seven losses, and is in second place in the East Division.
In other CFL news, Hall of Famer George Reed passed away at the age of 83 on Sunday. Reed, who was with the Saskatchewan Roughriders from 1963 to 1975, is second all-time in rushing yards with 16116. He was the CFL's most outstanding player in 1965, was the Grey Cup most valuable player in 1966, was inducted into the Canadian Football Hall of Fame in 1979, and Canada's Sports Hall of Fame in 1984.