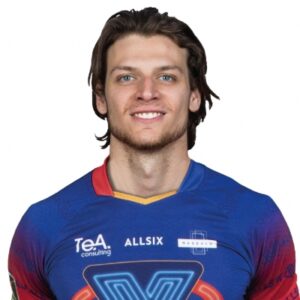 Team Canada beat Argentina on Sunday (Saturday evening in Canada) in Olympic men's volleyball qualifying from Xi'an, China by a score of 27-25, 25-22, 23-25, 25-15. With the win, Canada improved to a record of two wins and zero losses.
Outside Hitter Stephen Maar of Aurora, Ontario and opposite Arthur Szwarc of Toronto, Ontario led Canada with 16 points each. Maar had 14 attack points, and two additional points from blocks. Szwarc had 15 points from the attack and one block point. Outside hitter Eric Loeppky of Steinbach, Manitoba was the only other Canadian to reach double figures in points, as he had 15 (11 points from the attack, two aces, and two block points).
Loeppky and Maar were two of four Canadians to lead the team with two block points. The others were middle blocker Danny Demyanenko of Toronto, Ontario and setter Luke Herr of Winnipeg, Manitoba. Szwarc led Canada in attack points with 15. It was the second straight game from the Olympic men's qualifying tournament in Poland that Szwarc led Canada in attack points. He had 17 attack points in a five-set win over the Netherlands a day earlier. Loeppky led Canada with two aces in the win over Argentina.
Canada next plays Poland on Tuesday. Poland is the only other team undefeated as they have beaten Belgium and Bulgaria to date. The top two teams from this eight-team round robin tournament qualify for the 2024 Olympic Games in Paris.