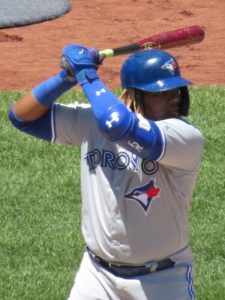 The Toronto Blue Jays snapped a five game losing streak in a big way on Tuesday. For the fifth time in franchise history they reached the 20-run plateau in a big 20-1 win over the Tampa Bay Rays.
It was an excellent game for Blue Jays designated hitter Vladimir Guerrero Jr. of Montreal, Quebec, who led the team with six runs batted in. He also had one run, one home run, and three hits. Guerrero Jr. was one of four Blue Jays players with a home run. The others were George Springer, Matt Chapman and Danny Jansen.
Of the 20 runs the Blue Jays scored, Jansen, Springer and Whit Merrifield had three runs each. Chapman, Daulton Varsho, and Bo Bichette had two runs each. Meanwhile, the Blue Jays who scored one run were Guerrero Jr., Cavan Biggio,  Nathan Lukes, Ernie Clement, and Kevin Kiermaier.
With the win, the Blue Jays climb out of the basement in the American League East. They are two and a half games back of the Houston Astros for the final American League wildcard spot. The previous four times the Blue Jays had 20 runs in a game came on June 26, 1978 in a 24-10 Blue Jays win over the Baltimore Orioles, on June 25, 2002 in a 20-11 Blue Jays win over the Rays, on September 12, 2021 in a 22-7 win over the Orioles, and in a 28-5 Blue Jays win over the Boston Red Sox on July 22, 2022.