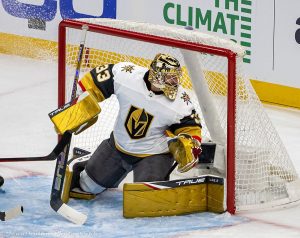 Adin Hill of Comox, British Columbia picked up his very first National Hockey League Stanley Cup playoff shutout on Tuesday. It came in a 4-0 Vegas Golden Knights win over the Dallas Stars. With the win at the American Airlines Center in Dallas, the Golden Knights take a three games to none lead in the Western Conference Finals.
Hill made 11 saves in the first period, nine saves in the second period, and 14 saves in the third period. He was significantly better than his Stars' goaltending counterpart Jake Oettinger, who gave up three goals on five shots before being pulled. Esa Lindell led the Stars with five shots on goal.
Offensively for the Golden Knights, Ivan Barbashev led the team with three points (one goal and two assists). Another player on Vegas with a multi-point game was Nicolas Roy of Amos, Quebec, who had two assists. Three Canadians on the Golden Knights scored in game three. They were Jonathan Marchessault of Cap-Rouge, Quebec, William Carrier of LaSalle, Quebec, and Canadian Olympic gold medalist Alex Pietrangelo of King City, Ontario. Pietrangelo won a gold medal for Canada at the 2014 Olympic Winter Games in Sochi.
Hill previously had five NHL regular season shutouts. They came in a 3-0 Arizona Coyotes win over the Nashville Predators on November 29, 2018, in a 4-0 Coyotes win over the San Jose Sharks on March 27, 2021, in a 3-0 Coyotes win over the Golden Knights on April 30, 2021, in a 5-0 Sharks win over the Montreal Canadiens on October 19, 2021, and in a 5-0 Sharks win over the Los Angeles Kings on March 12, 2022.