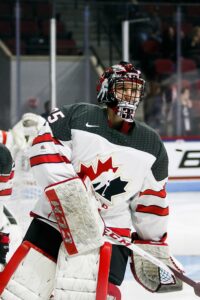 It will once again be an all-North American final at the Women's World Hockey Championship. On Monday in Calgary, Alberta, the semifinals took place, with Canada defeating Switzerland 4-0 in one semifinal, and the United States beating Finland 3-0 in the other semifinal. The gold medal game will be on Tuesday.
In Canada's win over Switzerland, Ann-Renee Desbiens of La Malbaie, Quebec made 10 saves for the shutout. She made two saves in the first period, six saves in the second period, and two more saves in the third period.
Even though Canada only beat Switzerland by four goals, the Canadian squad had a shooting gallery on Switzerland's goaltender Andrea Braendli. Canada peppered Brandli with 65 shots on goal, with Victoria Bach of Milton, Ontario leading Canada with six shots on goal.
Canadian Olympic gold medalist Melodie Daoust of Valleyfield, Quebec led Canada with two goals. Two other Canadians had a multi-point game as Renata Fast of Hamilton, Ontario had one goal and one assist for two points, and Olympic gold medalist Marie-Philip Poulin of Beauceville, Quebec had two assists. The other Canadian goal scorer was Canadian Olympic gold medalist Rebecca Johnston of Sudbury, Ontario. Poulin and Johnston won a gold medal for Canada at the 2010 Olympic Winter Games in Vancouver, and the 2014 Olympic Winter Games in Sochi, while Daoust won gold at the 2014 Olympic Winter Games in Sochi.