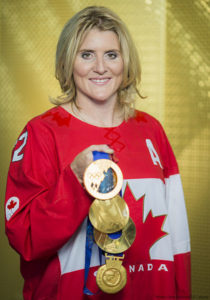 Canadian Olympic gold medalist Hayley Wickenheiser of Shaunavon, Saskatchewan was inducted into the Saskatchewan Hockey Hall of Fame in Swift Current on Saturday. Wickenheiser won a gold medal for Canada in women's hockey at the 2002 Olympic Winter Games in Salt Lake City. the 2006 Olympic Winter Games in Turin, the 2010 Olympic Winter Games in Vancouver and the 2014 Olympic Winter Games in Sochi. She also won an Olympic silver medal at the 1998 Olympic Winter Games in Nagano. 
Wickenheiser is also a seven-time world champion. She is the all-time leader in assists (49) and points (86) at the Women's World Hockey Championship. At the Olympic Winter Games, Wickenheiser is the all-time leader in goals (18), assists (33) and points (51).
Wickenheiser not only excelled in the sport of hockey. A multi-sport athlete, she represented Canada at the 2000 Olympic Games in Sydney in women's softball. Wickenheiser also won the 2007 Bobbie Rosenfeld Award, received the Order of Canada in 2011 and received a star on Canada's Walk of Fame in 2014.
In addition to Wickenheiser, six other individuals were inducted. They include former Colorado Rockies and Vancouver Canucks right winger Ron Delorme of North Battleford, Saskatchewan, former Montreal Canadiens, New York Rangers, Oakland Seals, California Golden Seals and Pittsburgh Penguins right winger Bill Hicke of Regina, Saskatchewan, former Estevan Bruins head coach John Kelly Lovering, volunteers Dennis Loeppky and Larry Johnson and official Lyle Wilhelm.