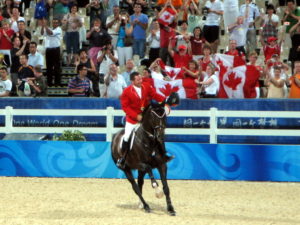 Canadian Olympic gold medalist Eric Lamaze of Montreal, Quebec won the 2018 ATCO Queen Elizabeth II Cup at Spruce Meadows, Alberta. While riding Fine Lady 5, Lamaze was the only rider of the 32 competitors who jumped clean in the two rounds of competition.
Lamaze had a time of 82.67 seconds in the first round. He then posted a time of 64.37 seconds in the second round. Enrique Gonzalez of Mexico finished in second with one time fault over the two rounds. Karen Polle of Japan finished in third place.
Polle was one of five riders to have four faults, but finished in third place because she had the fastest time among the five riders with four faults in the second round. The others were Peter Lutz and Andrew Welles of the United States, Rowan Willis of Australia and Patricio Pasquel of Mexico.
There is no doubt the day belonged to Lamaze, who is currently in fourth place in the world rankings at the moment. He is behind Harrie Smolders of the Netherlands, Peder Fredricson of Sweden and Mclain Ward of the United States. Lamaze won his Olympic gold medal at the 2008 Olympic Games in Beijing. He also won silver in the Olympic team competition at the 2008 Olympic Games and bronze and at the 2016 Olympic Games in Rio de Janeiro.