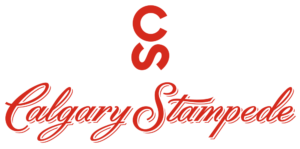 Clint Laye of Cadogan, Alberta and Cody Cassidy of Donalda, Alberta posted the best results on Saturday of day two of the 2018 Calgary Stampede. Laye had the best score in the bareback and Cassidy had the best time in the steer wrestling.
In the bareback, Laye had a score of 88 points on Youngstown Rocket. With the win, he moved into first place overall in the Pool A aggregate standings with $10,000. Cassidy meanwhile tied for the fastest time in the steer wrestling at 4.4 seconds. Cassidy was tied with American steer wrestler Rowdy Parrot of Mamuo, Oklahoma. Like Laye, Cassidy is in first place in the aggregate standings with $9,500.
Three other Canadian cowboys finished in the top three of the elite competitions on Saturday. Clay Elliott of Nanton, Alberta and Zeke Thurston of Big Valley, Alberta were second and third respectively in the saddle bronc and Jake Vold of Airdrie, Alberta was second in the bareback. Thurston, who won on Friday, leads the aggregate standings in the saddle bronc with $9,000. Elliott is fourth in the saddle bronc aggregate standings and Vold is third in the aggregate bareback standings.
In the chuckwagon racing, Kris Molle of Watson, Saskatchewan had the fastest time on Saturday at 1:11.49. He was 0.36 seconds slower than Mark Sutherland's Friday fastest time of 1:11.13.