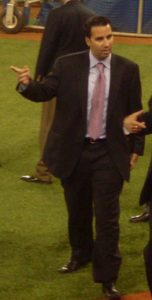 The National League Divisional Series between the Philadelphia Phillies and Atlanta Braves may not have any active Canadian content from a player perspective (Braves starting pitcher Mike Soroka of Calgary, Alberta is out for the season with a right forearm injury), however those making key decisions in the two organizations are Canadian. I am taking about Braves general manager Alex Anthopoulos of Montreal, Quebec and Phillies manager Rob Thomson of Sarnia, Ontario.
Anthopoulos has been the Braves general manager since 2018, and has literally become the best general manager in the game today. He has guided his team to an unprecedented nine consecutive division titles (as the general manager of the Toronto Blue Jays in 2015, as the vice-president of baseball operations for the Los Angeles Dodgers in 2016 and 2017, and as the general manager and later as the president of baseball operations for the Atlanta Braves over the last six years). In that time frame, he has a record of 803 wins and 552 losses for an amazing winning percentage of .592. Anthopoulos also guided the Braves to a 2021 World Series title.
This is the second straight year the Phillies are in the postseason with Thomson in charge. Last year the Phillies went all the way to the World Series. This year they finished second in the National League East (only behind the Braves) and then beat the Miami Marlins two games to none in the National League Wildcard Series. Thomson has a regular season record of 155 wins and 118 losses for a winning percentage of .568.