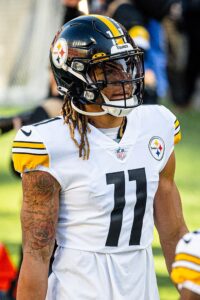 According to Jonathan Jones of CBS Sports on Friday, the Chicago Bears have traded wide receiver Chase Claypool of Abbotsford, British Columbia to the Miami Dolphins. In return, the Bears receive a sixth round pick in the 2025 National Football League Entry Draft. In addition to Claypool, the Dolphins also receive a seventh round pick from the Bears in the 2025 NFL Draft.
Claypool had four catches for 51 receiving yards and one touchdown in three games with the Chicago Bears in 2023. He fell out of favour among the Bears coaching staff because he publicly stated his disappointment for not getting the football enough. As a result, the Bears made Claypool inactive in their last two games, as the Canadian was asked to "stay home." The hilarious thing is that Claypool is now going to Miami, who has two of the most electric wide receivers in the game in Tyreek Hill and Jaylen Waddle, and two great running backs in Raheem Mostert and De'Von Achane. The bottom line is that Claypool could be disgruntled even more with the Dolphins than the Bears.
This is the second time Claypool has been traded in the last year. On November 1, 2022. he was traded from the Pittsburgh Steelers to the Bears for a second round pick in the 2023 NFL Draft.