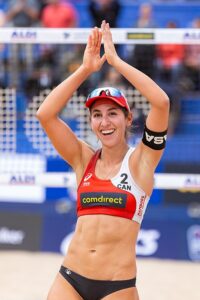 Melissa Humana-Paredes and Brandie Wilkerson of Toronto, Ontario won their opening game of the 2023 World Beach Volleyball Championships in Tlaxcala, Mexico on Saturday. Humana-Paredes and Wilkerson defeated Siad Mahassine and Yakki Imane of Morocco 21-9, 21-10.
Humana-Paredes earned 17 total points (13 attack points and four aces) and Wilkerson earned 15 total points (11 attack points, two block points and two aces). It was a convincing win for the Canadians who moved into a first place tie in terms of points with Czech Republic in Pool D. The Czech team of Barbora Hermannova and Marie-Sara Stochlova defeated the Netherlands team of Erika Mongelos and Michelle Valiente 21-14, 17-21, 15-10. Canada currently holds the tiebreaker against the Czech Republic because Canada won in straight sets, while Czech Republic needed three sets to be victorious.
The Canadians next play the Netherlands at approximately 7pm on Sunday, and then the Czech Republic on Monday. Humana-Paredes and Wilkerson have won a medal at the World Beach Volleyball Championships before, but with different partners. Humana-Paredes teamed up with Sarah Pavan of Kitchener, Ontario to win gold at the 2019 World Beach Volleyball Championships in Hamburg, Germany. Wilkerson teamed up with Sophie Bukovec of Toronto to win silver at the 2022 World Beach Volleyball Championships in Rome, Italy.