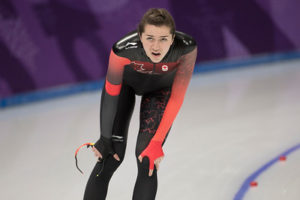 Isabelle Weidemann of Ottawa, Ontario has got off to a marvelous start to begin the 2018-19 World Cup speed skating season. In the women's 3000 metres from Heerenveen, Netherlands on Sunday, Weidemann posted a personal best time of four minutes, 1.29 seconds in winning the silver medal. Weidemann still has some work to do in order to break the Canadian record however. That belongs to the great Cindy Klassen of Winnipeg, Manitoba, who set a time of three minutes, 53.34 seconds in winning the World Allround Speed Skating Championships at the Olympic Oval in Calgary, Alberta on March 18, 2006.
In Heerenveen on Sunday, Antoinette de Jong of the Netherlands won the gold medal with a time of 3:59.419. Martina Sablikova of the Czech Republic won the bronze medal with a time of 4:00.337. Weidemann was 0.493 seconds faster than Esmee Visser of the Netherlands, who finished in fourth place with a time of 4:00.622.
Weidemann now leads the World Cup standings in the women's 3000 metres with 200 points. She leads Visser by eight points. In the last three World Cups, Weidemann has reached the podium. She won the gold medal in Tomakomai, Japan on November 24 and the silver medal in Tomaszow Mazowiecki, Poland on December 9. The last two World Cups this year are in Hamar, Norway from January 31-February 2, 2019 and in Salt Lake City, Utah, United States from March 8-9, 2019. The silver medal for Weidemann will boost her confidence as she prepares for the 2022 Olympic Games in Beijing.